These Top Tweets made by Donald Trump Will Make You Guffaw
By James Neequaye Kotey December 15, 2019
---
The US President Donald Trump is undoubtedly one of the most famous world leaders for quite a number of reasons, and his mirth-inducing tweets are most certainly one of the factors that draw people to his Twitter account.
An analysis by Tweet Binder reveals that since assuming the presidential office, Donald Trump has made over 7,225 tweets, aside from the RTs, with an average of 10 tweets a day. The US President is famous for his bold and blatant statements, his unveiled threats leveled at rival world leaders, and his infamous hatred for "Crooked Hillary" and "Do Nothing Democrats".
The analysis reveals that since becoming the President, Donald Trump has made over 191 tweets about "Crooked Hillary", while the former US President, Barrack Obama, has been mentioned 795 times since 2009. Whoa.
Needless to say, the US President is one of the most followed and retweeted personalities on Twitter, and even those who hate him often find a good reason to laugh at his comments. In this article, we will walk you through some of the best tweets made by the US President.
Let's get started, shall we?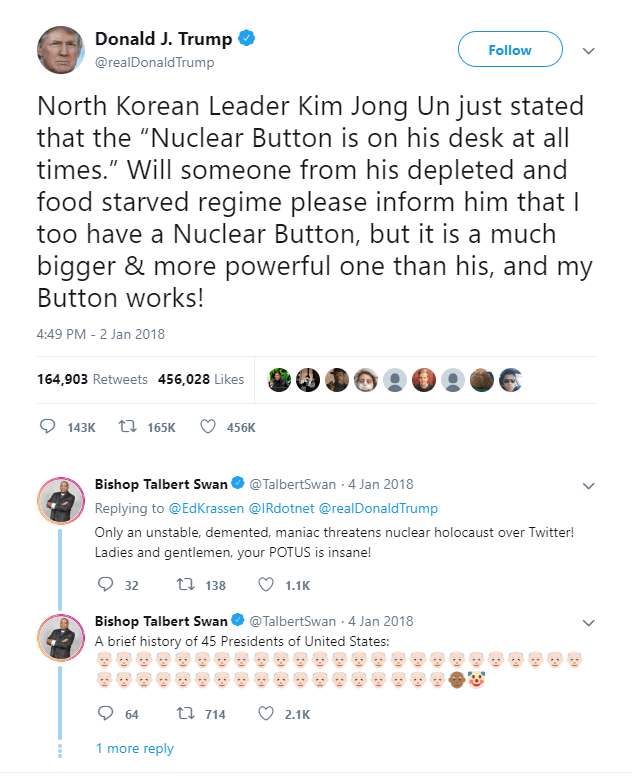 US President Donald Trump is widely known for his sarcasm-dripping wit and humorous take on international diplomacy. This tweet, one of his finest, made headlines across the world for the callous mention of nuclear weapons and is yet another example of how Donald Trump does not like to be threatened. The tussle between the United States and North Korea has only gotten tenser, and nuclear threats are not something either country is shy of making.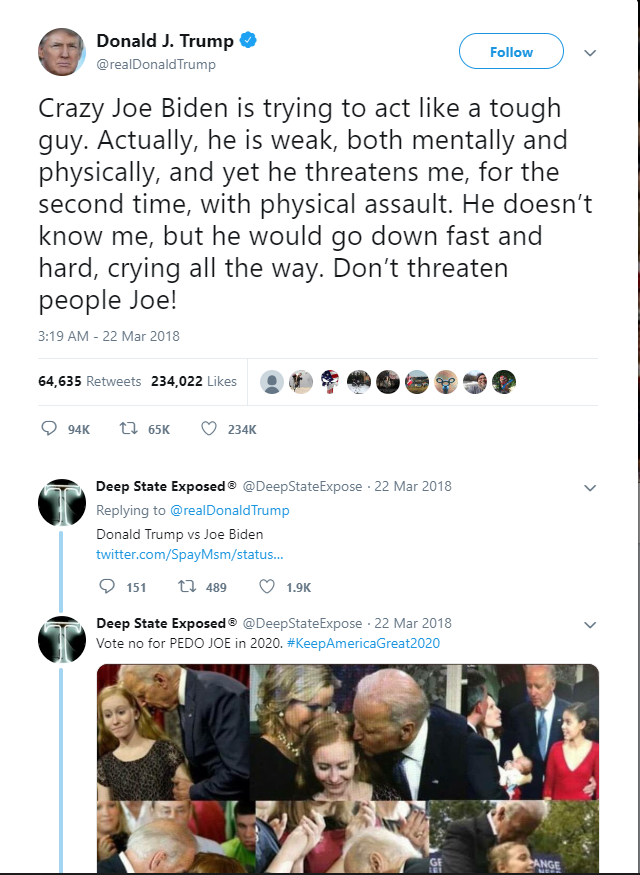 Yet another classic tweet by President Donald Trump. Here, the leader, one of the most powerful ones in the world, is seemingly slamming down his political opponent, Joe Bidden. Trump is famous for decimating and targeting his opponents on Twitter, of which Hilary Clinton and Joe Biden certainly take the lead.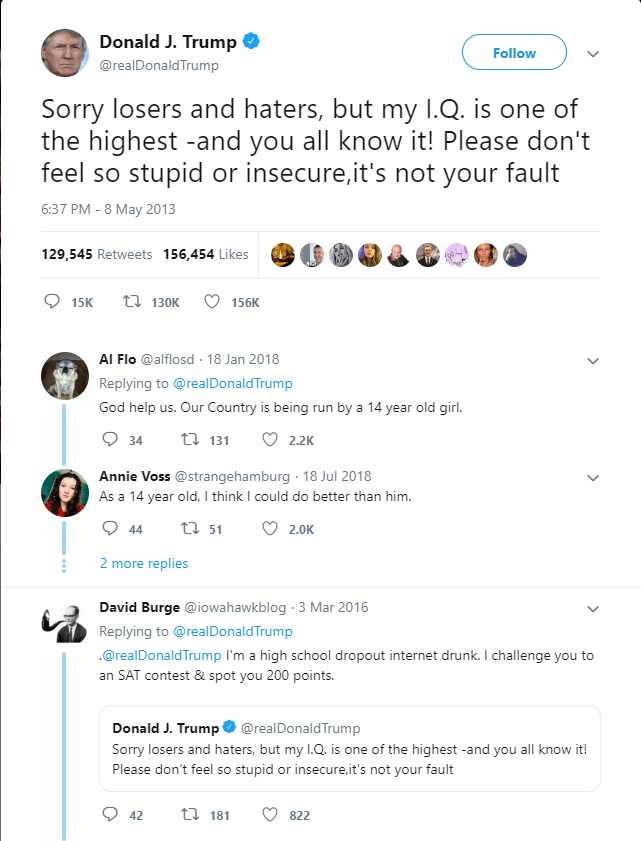 Every time there's a new statement from either one of his opponents, Trump takes to Twitter to call him/her out with a sharply worded statement. In this tweet, he appears to be challenging Joe Bidden to a duel, claiming that he would "go down fast and hard".
Even though this tweet was made years ago, back in 2013 when Donald Trump wasn't even campaigning for the seat of the US President, it continues to remain the most hilarious, and unarguably one of his best tweets. Over the years, the US President has exhibited a rare passion for self-love and confidence, and this tweet is just an example of how self-assured he is.
Modesty is clearly not one of his strongest suits, and he often takes to Twitter to what some may say "brag about" his latest achievements since assuming the Presidential Office. The Democrats would beg to differ, but the President doesn't have much to say to "losers and haters".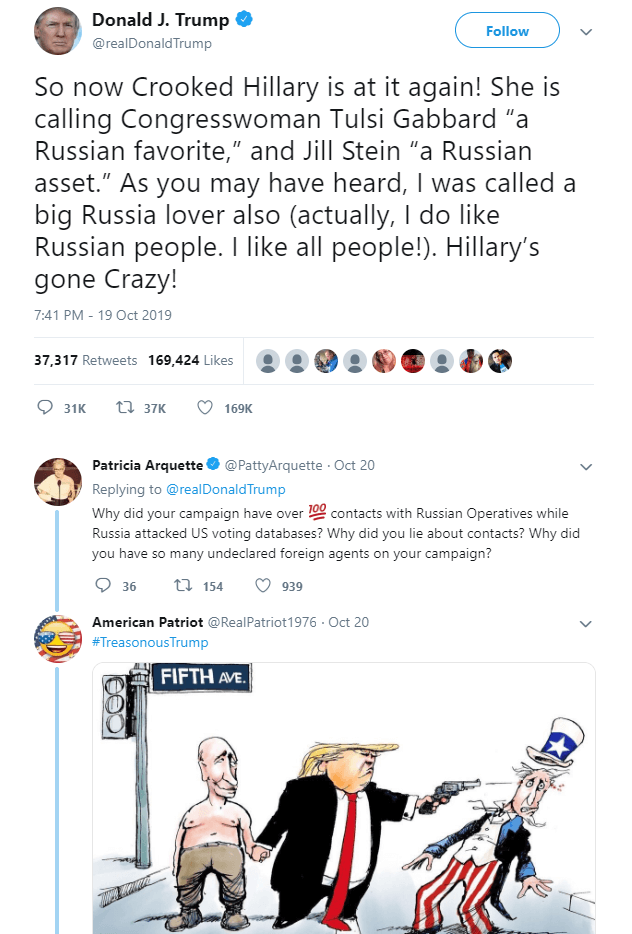 The US President never fails to delight us with his mirth-inducing tweets about Hilary Clinton, and needless to say, his tweets are one of the rarest occurring that keep domestic politics in the US lively and fun. Always pointing at "Crooked Hillary" in his hilarious tweets, Trump always takes a dig at his opponent, especially her obsession with "Russian assets".
After being scrutinized for his alleged Russian ties for a long time, Trump now seizes every opportunity he gets to mock the allegations leveled against him. In this tweet, he highlights Hillary Clinton's statements with regards to US Presidential candidates Tulsi Gabbard and Jill Stein.
Trump is rather famous for his zealous twitter rants, and this one, made in January 2018, remains one of the best for a number of reasons. It is well known that after the investigation into his Russian ties came to an end, Trump's mental stability and ailments became a mainstream topic of discussion.
The discussion got all the fierier after Michael Wolff released Fire and Fury, a rather hilarious account of Donald Trump's first year in the Presidential Office. Wolff depicted the US President as an utter goof, and it is also one of the catalysts that prompted Trump to rave on about how his "two greatest assets have been mental stability and being, like, really smart."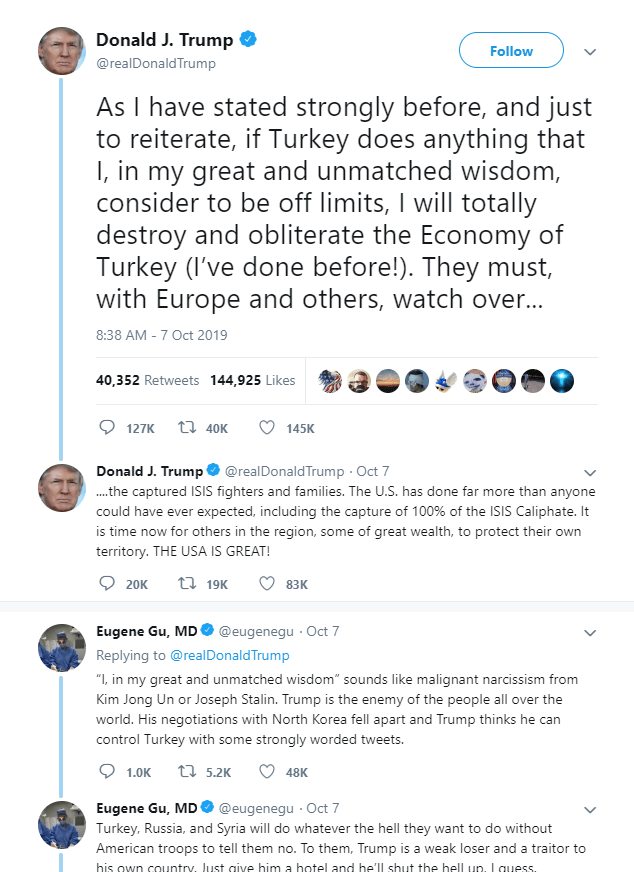 It is phrases such as "in my great and unmatched wisdom" that makes US President Donald Trump such a towering legend on Twitter. Even though this tweet was made earlier this month, within a short amount of time, the great-and-unmatched-wisdom phrase has amassed a fan following of his own, while Twitteratis can't help but compare Trump with not-so-humble and domineering, authoritarian leaders.
Some feel he seems to take after Libyan leader Moamer Qaddafi, while many have compared with him the cunning Wizard of Oz. In a self-glorifying tweet, Trump threatened the Turkish leadership against "anything" that he would deem to be "off-limits". Clearly, the US President does not mince words when it comes to threatening other countries with economic destruction.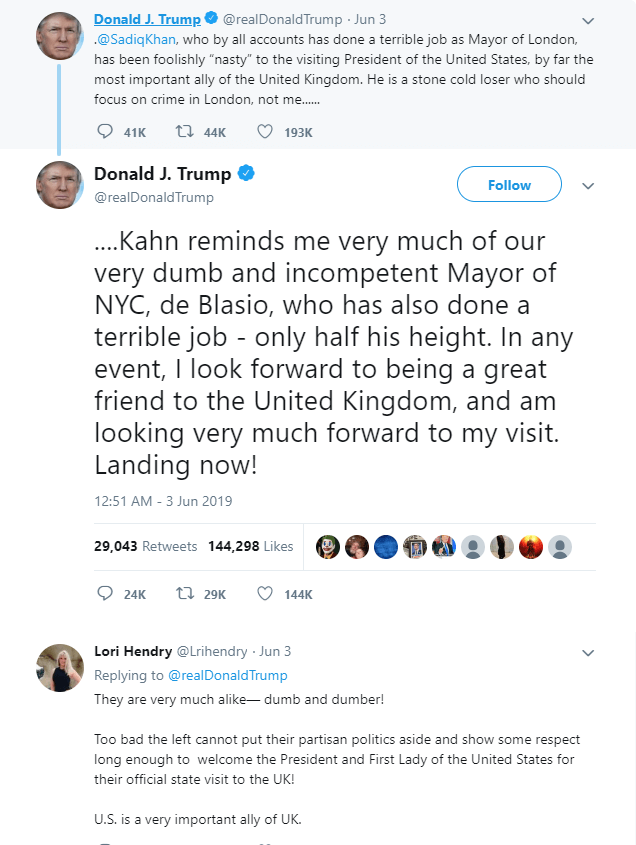 Donald Trump certainly isn't fond of the slightest bit of criticism, and he viciously takes to twitter with a nastily worded statement to immediately condemn all those who dare criticize or even disagree with him.
Here, the US President can be seen bashing Sadiq Khan, the mayor of London. Accusing Sadiq Khan of being "foolishly nasty" to the President of the US, Trump made this tweet shortly before his visit to the United Kingdom. Nevertheless, Trump didn't let a "stone-cold loser" entirely destroy his diplomatic effort and concluded the tweet with an emphasis on how he looks forward to being a "great friend to the UK".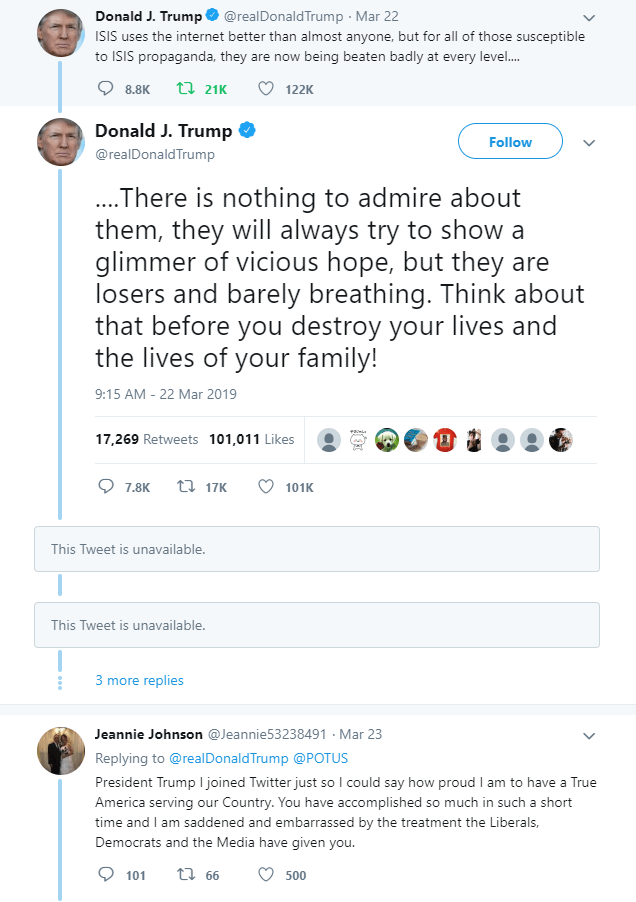 ISIS is one of the most frequent mentions in Trump's tweet, and the US President is always promoting his hardline stance against the terror outfit. In this tweet, he is seen to be warning all across the globe to beware of the propaganda and menace of ISIS as the terror group deploys the internet to recruit and train people to become militants.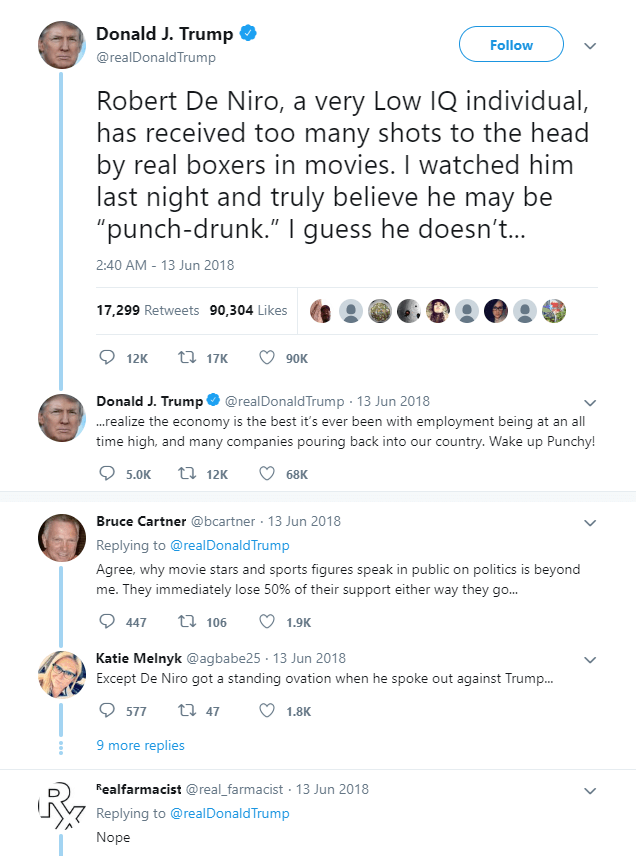 One of Trump's most retweeted statements from 2018, here the US President is avidly bashing iconic Hollywood actor, Robert De Niro, for his political views. As is the case with Trump's infamous intolerance for twitter, his wrath always pours down on Twitter, and in the most hilarious of ways!
Slamming De Niro as a "very low IQ individual", Trump made a rather funny reference that the famous actor has become "punch-drunk" after receiving multiple shots in the head by "real boxers in movies". Reminding De Niro of his efforts to make America great again, Trump ends the tweet at a rather comical note that had us roaring with laughter.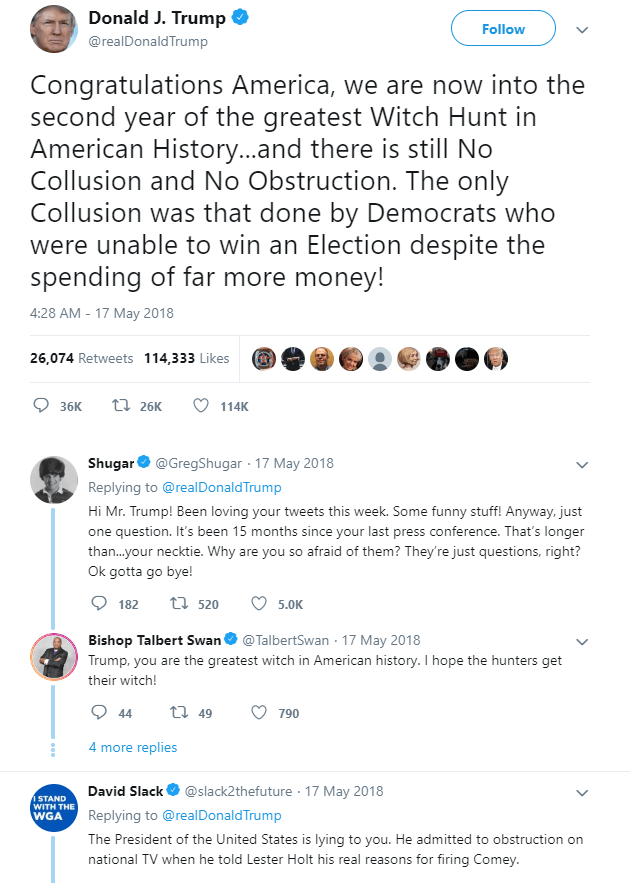 Trump is rather famous for his downright hilarious historical references, and here, he can be seen criticizing the investigation into his Russian ties as the "greatest witch hunt in American history." It appears that the Salem trials of 1962 have certainly lost their significance. He then proceeds to take a jibe at his opponents of the Democrats party, sneering that they failed to defeat him despite spending "far more money".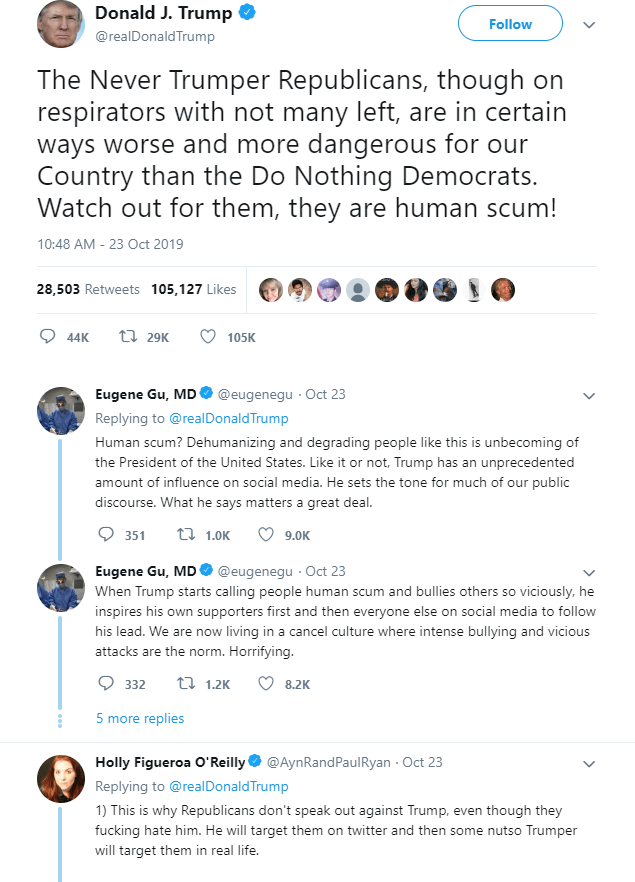 Trump is always coining up the most unusual terms to refer to his "haters" and critics, and the "Never Trumper Republicans" have garnered his wrath a great deal more than the "Do Nothing Democrats". The US President certainly has a unique way of coining up nicknames for his haters and their political factions, and these inventive words are what make his tweets stand out and command attention.
He's certainly the only leader in the world who is so confidently blatant and vocal in calling out his opponents, and his followers love him for this unbashful attitude. Here, Trump downgrades all the Republicans who refuse to support him and his policies, declaring that they are "human scum".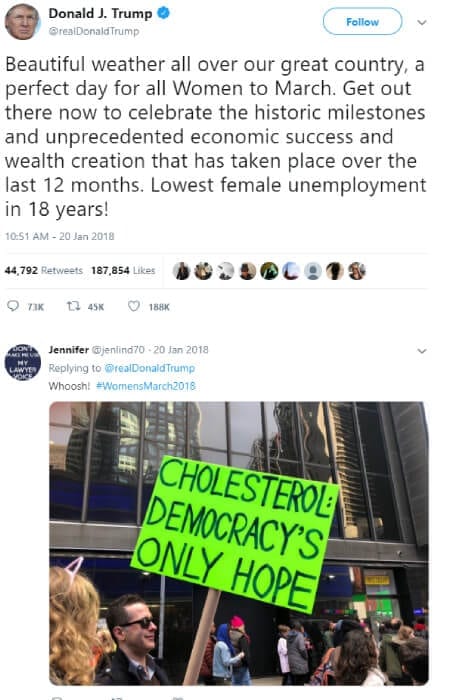 Even though many doubt Trump's sincerity in advocating women's rights, especially after the widely publicized Stormy Daniels fiasco, but Trump continues to advocate himself as the biggest champion for women's rights.
Without sharing any statistics, Donald Trump celebrated the Women to March event and urged all the women across the country to celebrate the "historic milestones and unprecedented economic success and wealth creation" achieved during his tenure. Doesn't say much about his appreciation for women, now does it? He concluded the tweet by touting his success in bringing about the lowest female unemployment figures in the last 18 years.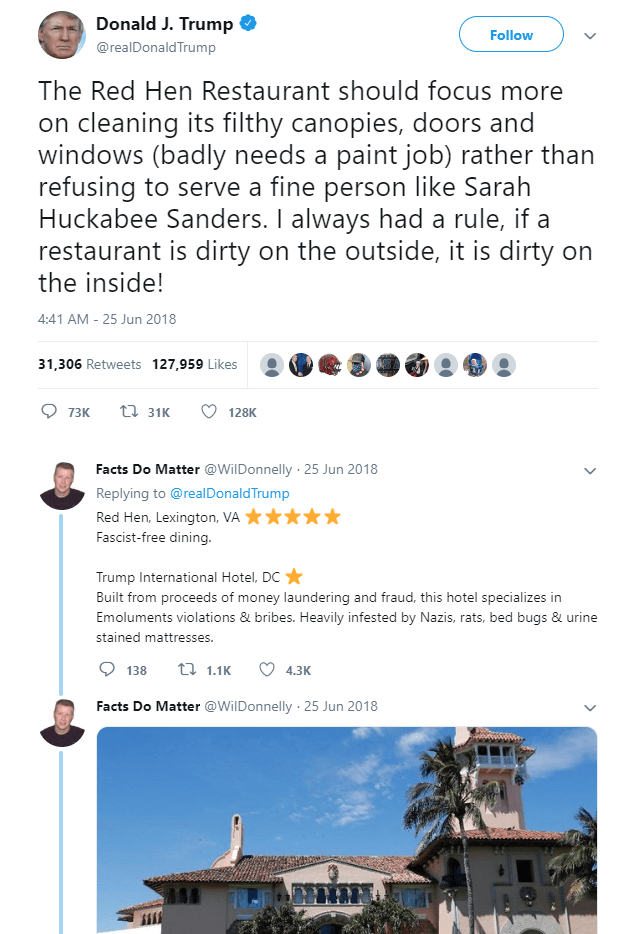 Here, Trump can be seen obliterating the reputation of the Red Hen Restaurant, an establishment that otherwise garners great reviews for its service and food. The restaurant invited Trump's wrath after asking the White House Press Secretary, Sarah Huckabee Sanders to leave their establishment, on account of her employment for the US President.
This news made headlines, and media houses were seen comparing the restaurant with a string of Trump's own properties and restaurants, including the Las Vegas steak joint and the Trump Tower Bar and Grill in New York, which have been served with multiple complaints of hygiene offenses.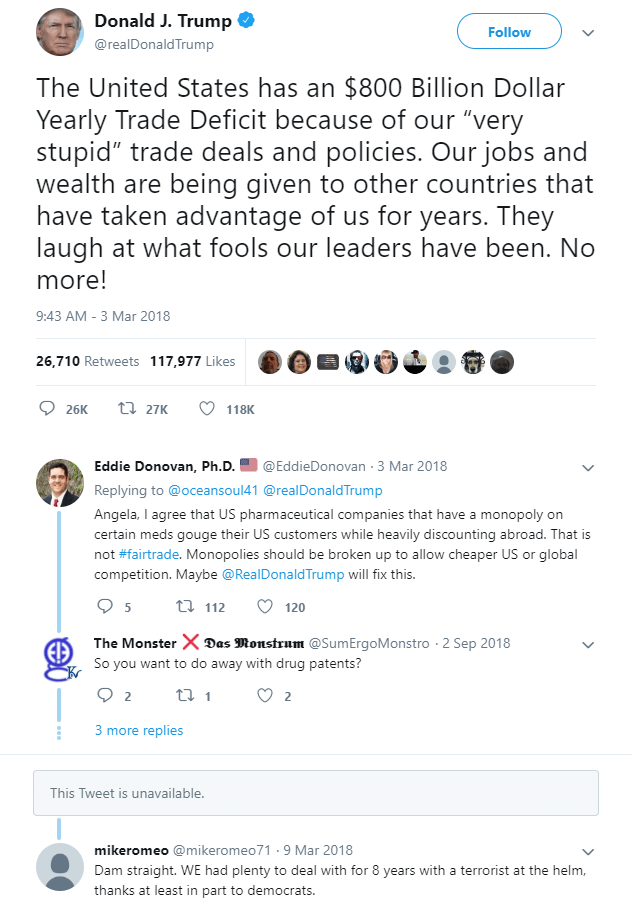 While analysts and opinion makers criticize Trump for steering the nation towards a massive, global trade war, the US President continues to blame his predecessors for making "very stupid" trade deals and policies. By announcing strikingly high tariffs on a variety of imported products, including steel and aluminum, Trump has been held responses for the financing of multiple US industry sectors.
However, Donald Trump remains ever-optimistic and proud of his policies and continues to make sarcastically-worded tweets to slam down his predecessors and their policies. According to the incumbent US President, the countries of the world have much to laugh about the "fools our leaders have been".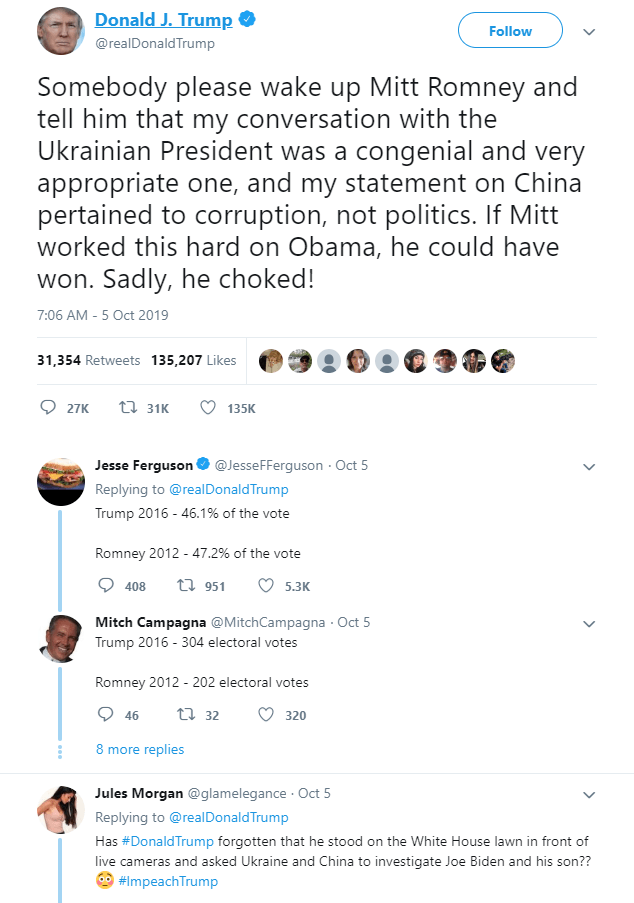 Yet another iconic tweet by the US President, the entire Ukrainian President fiasco certainly has Donald Trump in hot waters, but typical of his attitude, the President has taken to Twitter to express his anger at the Republican Senator Mitt Romney. Donald Trump clarified his stance on both, his conversation with the Ukrainian President and his statement on China. 
In his usual fashion, Trump spared no opportunity to bring his long-time critic, former US President Barack Obama into the sarcasm-dripping tweet. While his followers applaud him for being tough on his critics, many believe that this manner of tweeting is highly unbecoming of one of the most powerful leaders in the world.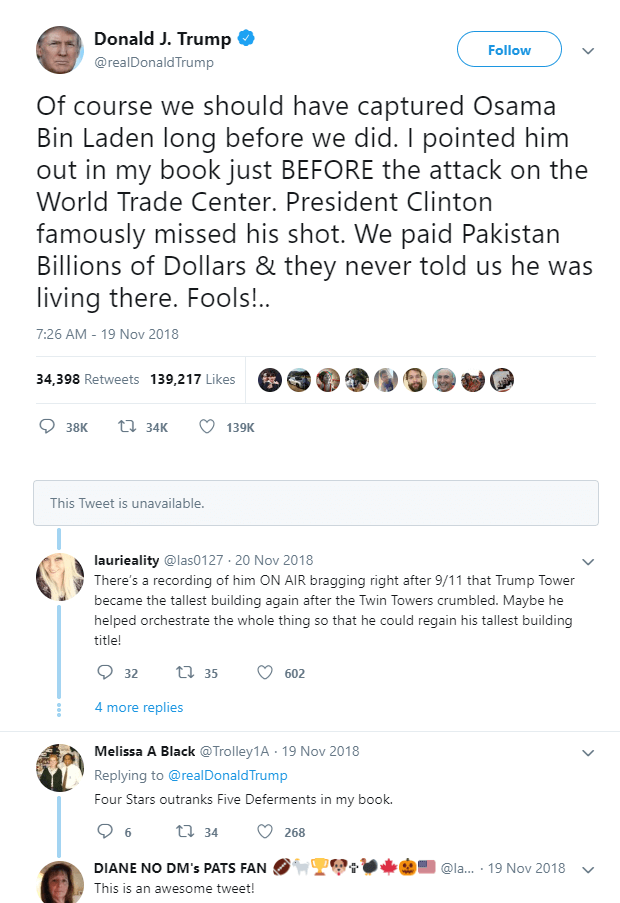 One of the most retweeted statements made by Donald Trump, this tweet goes back to the period when the US President was rather fond of bashing the South Asian country, Pakistan. This tweet also exhibits Trump's passion for slamming his predecessors and glorifying his existence as the smartest brain alive.
Here, Trump takes credit for pointing Osama Bin Laden "out in my book just BEFORE the attack on the World Trade Center", while his critics argue that Bin Laden only got a brief mention in his book released back in 2000. Moreover, the entire chapter Trump had penned down on Terrorism did not even mention Bin Laden once.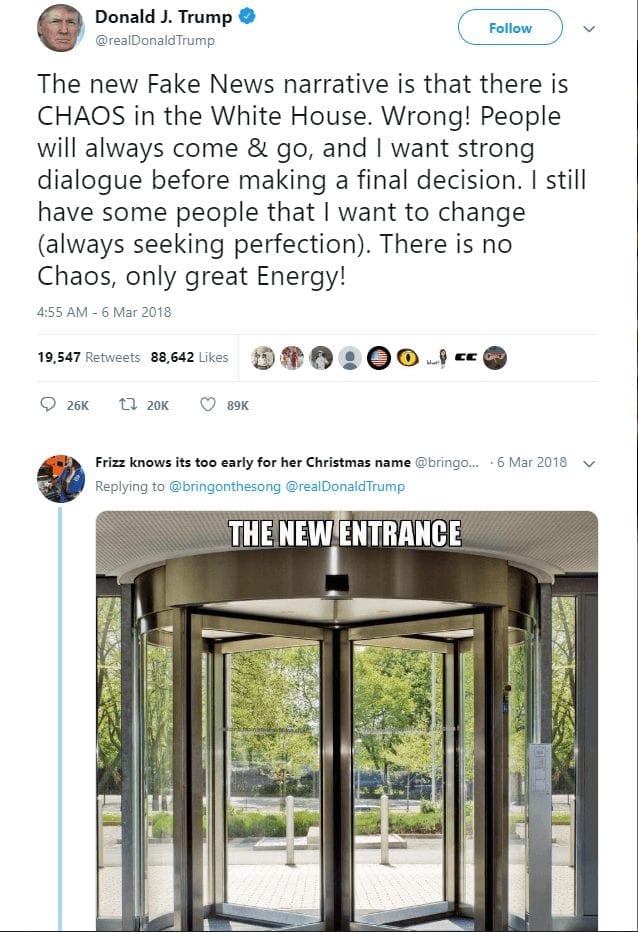 A glaring example of Donald Trump's self-perceived grandeur, the US President made this tweet when the entire nation was anxious about the dismissal of the acting defense secretary, acting Chief of Staff, and Acting Attorney General. Trump made light about the partial government shutdown, clarifying that the dismissals were merely his way of "seeking perfection" in the White House.
Throughout his tweets over the years, Trump attracts attention for his ability to make light of some of his major decisions that have attracted the displeasure of the people. Shutting down all news reports of chaos in the White House, Trump concluded, "There is no Chaos, only great Energy!"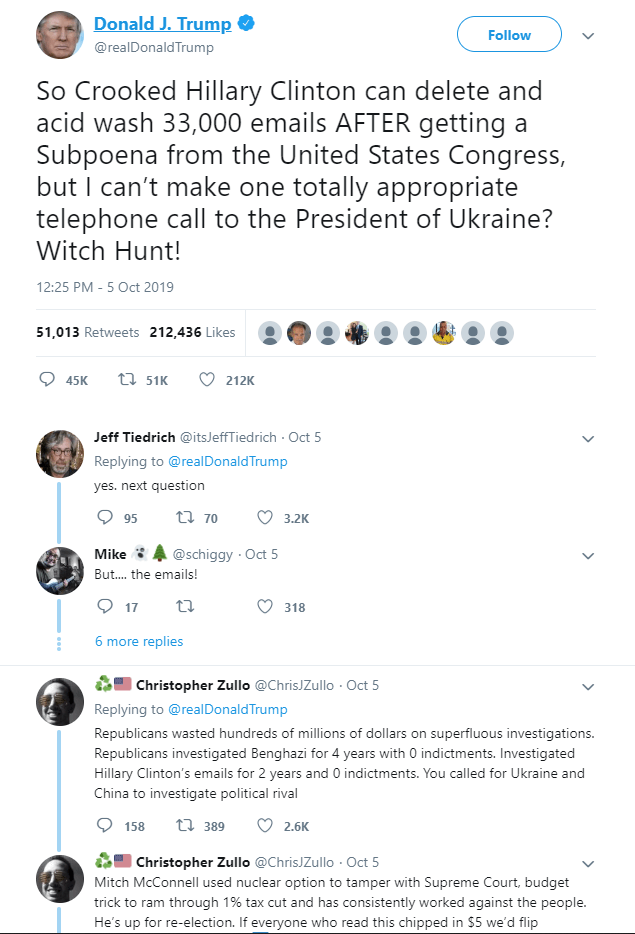 Given the unwavering hype of Trump's telephone call to the President of Ukraine, the US President seized the perfect moment to drag his political opponent, "Crooked Hillary" as he likes to call her, into the endless debate.
Posing a rather innocent question in an irony-dripping tweet, the US President points to attention Hillary Clinton's 33,000 mails, and the investigation launched by the US Congress to understand their true context. Yet again, Donald Trump can be seen glorifying himself and accusing his critics of orchestrating another "witch hunt" to bring him down. Clearly, the President cannot be beaten in a war of words!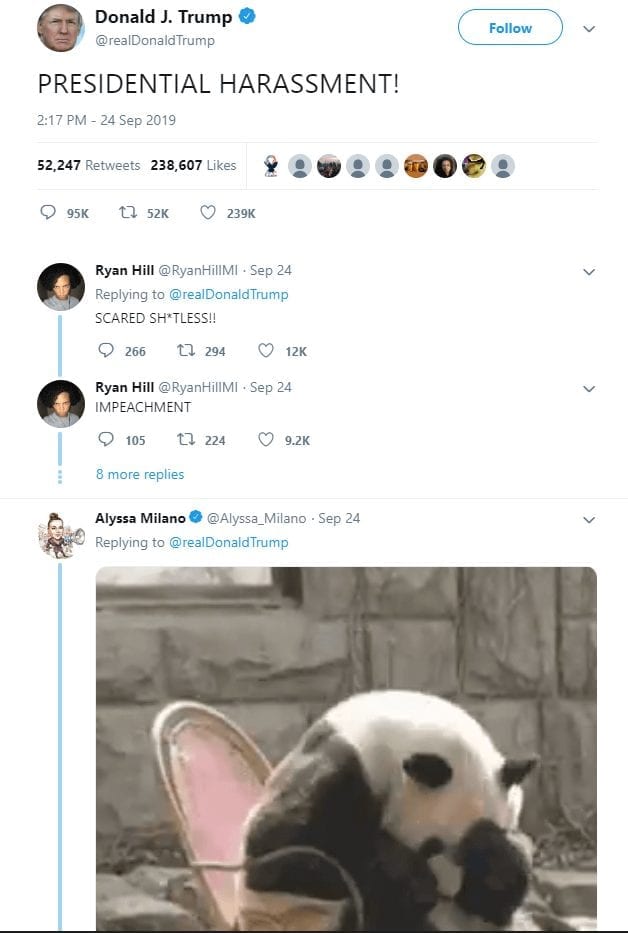 Even though the fight against sexual harassment and workplace harassment has yet to gain a significant momentum worldwide, the US President has presented the world with yet another form of persecution: Presidential harassment.
This two-word tweet is said to be one of his funniest for scores of reasons, the most obvious being Trump's never-ending self-appeasement and his continued efforts to use his twitter handle to attract attention towards his critics and their efforts of "presidential harassment."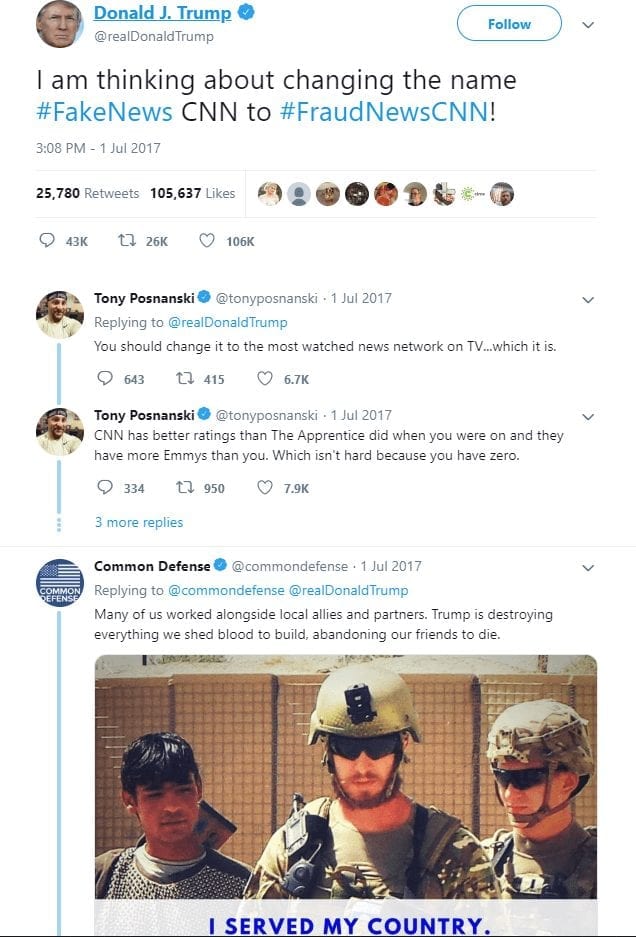 Donald Trump's inventive nicknames are not just limited to his political opponents and critics, but in fact, he also extends this graciousness towards media outlets, particularly those who voice criticism over his policies and measures. CNN is most definitely on top of the list of the channels that are most hated by the US President, and he has, time and again, defamed the news platform in his tweets.
This time around, Trump decided to give CNN a new name, changing it to "Fraud News CNN" from "Fake News CNN".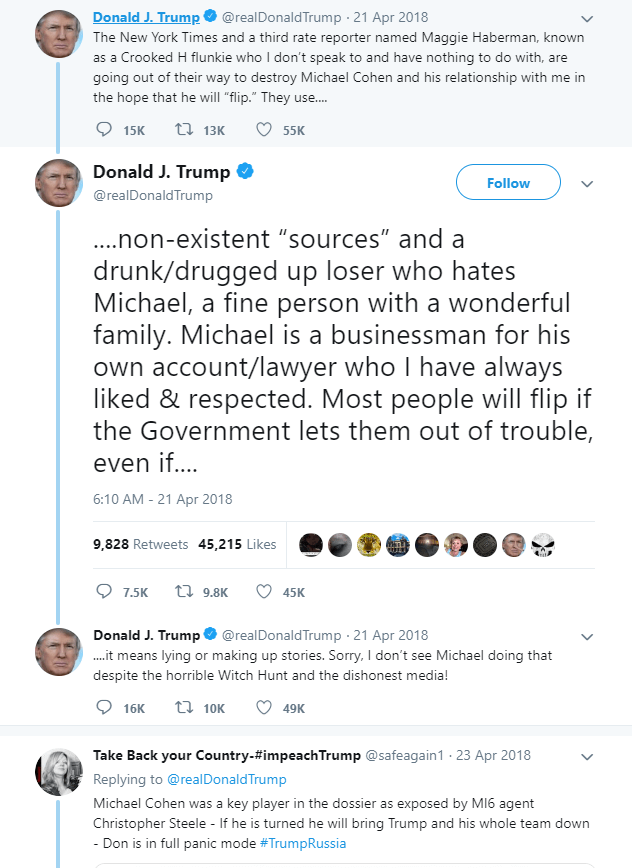 Trump has always been vocal about his displeasure on the media reports and articles depicting his relationship with other politicians, supporters, and influential individuals. The New York Times report, written Maggie Haberman on Trump's ties with Michael Cohen, garnered the US President's wrath.
Terming the much revered Maggie Haberman as a "third rate reporter", the US President obliterated her reputation by claiming that she is a "crooked H flunkie" and a "drunk/drugged up loser". Clearly not one of the finest moments for the president who claims to be the biggest supporter of women's rights, however, Trump's followers believe it was a rather bold manner of shutting down his critics.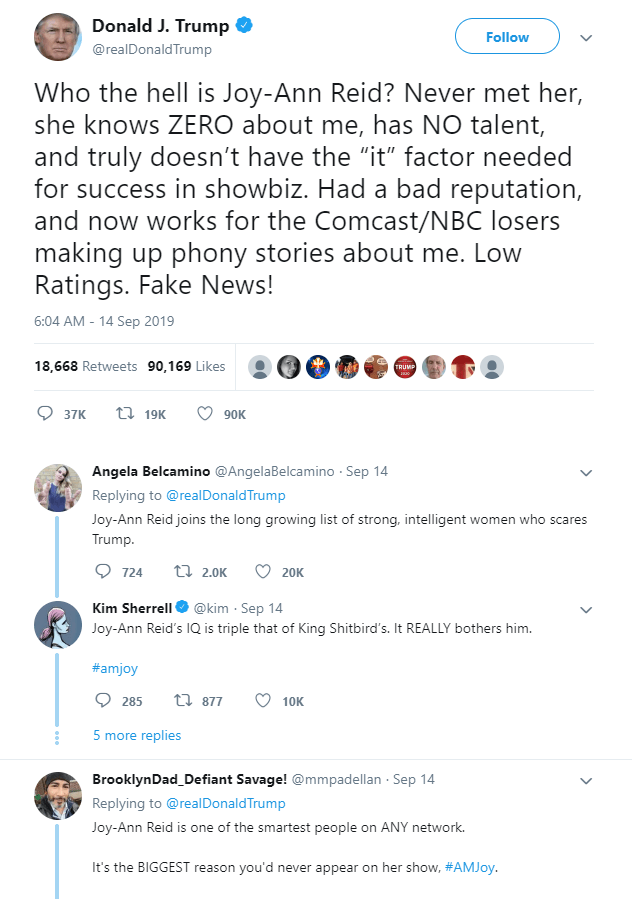 Yet another striking example of Donald Trump's wrath on journalists and respectable media personalities who dare to criticize the President. In this tweet, the US President is lambasting Joy-Ann Reid, one of the most famous TV presenters in America. Obliterating her existence, Trump deems her to have zero knowledge about the president, alongside having "NO talent."
In a somewhat hilarious and demeaning statement, The US President says that Reid simply does not "have the "it" factor needed for success in showbiz". In a matter of seconds, the President slammed her down for making "phony stories" about him and having a "bad reputation."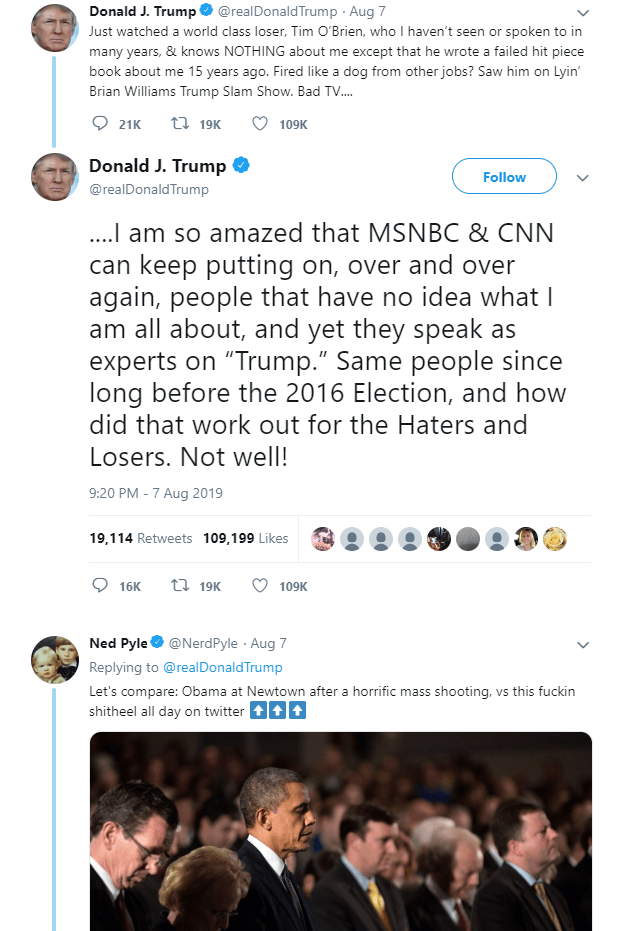 Trump's hatred for CNN and MSNBC certainly knows no bounds, and here, he can be seen defaming yet another analyst for criticizing him. This time around, Trump's ire was garnered by American novelist and political expert, Tim O'Brien, who according to Trump is no expert on his life, but merely "wrote a failed book about me 15 years ago."
Donald Trump claimed that O'Brien was "fired like a dog" from his other jobs, and then directed his wrath towards CNN and MSNBC, for airing shows with opinion-makers who speak as "experts" on the US President.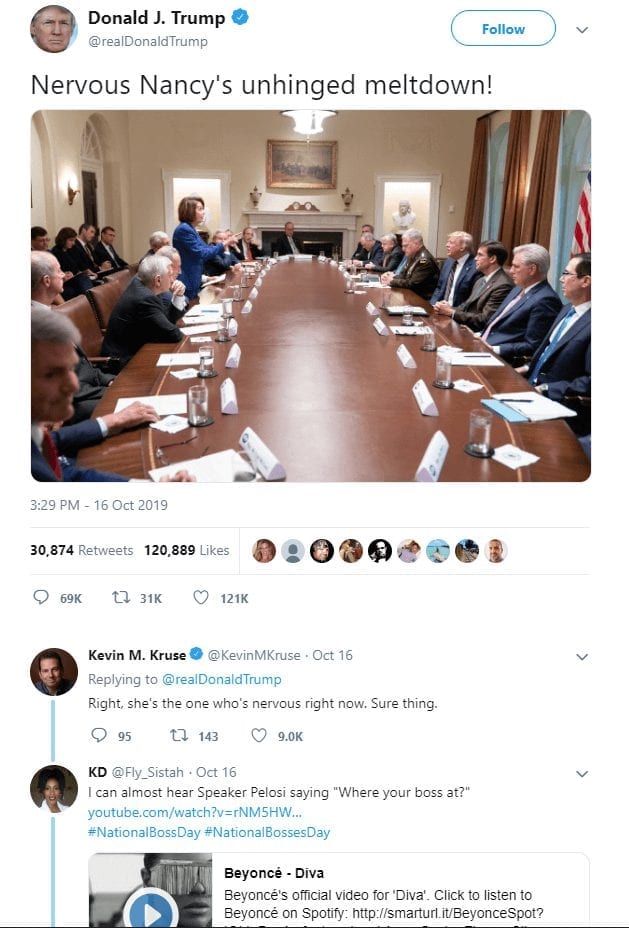 Nancy Pelosi is a US Democratic Party politician, and she is currently the Speaker of the United States House of Representatives. Throughout her interactions with the US President, Pelosi has maintained a dignified posture, while Trump has always been downright patronizing of the politician's capabilities.
Nancy has garnered a nickname of her own: Nervous Nancy!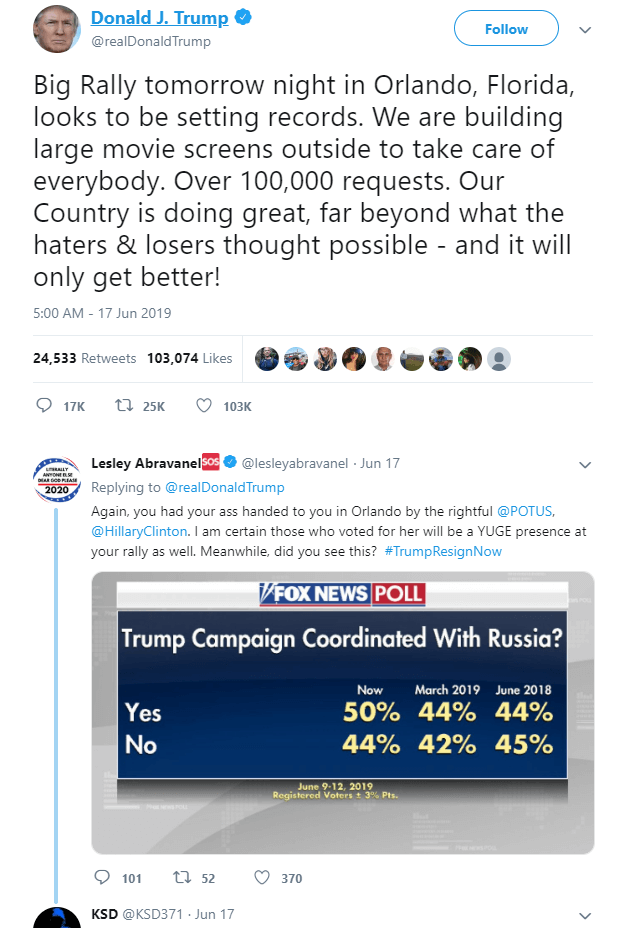 Trump's optimism about the people's love for him is certainly a glaring example of self-confidence and positivity and has always been an inspiration to many. Here, he takes to Twitter to clarify to the "haters and losers" that America is doing great, and people are flocking to attend his rally. The promise of large movie screens is certainly hard to resist.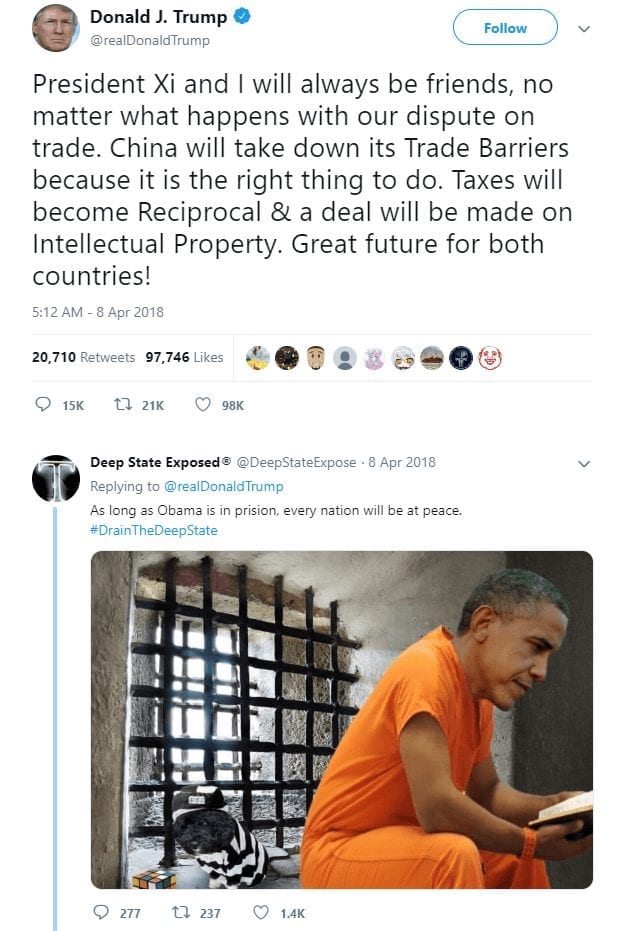 Trump's undying declarations of friendship and partnership with China seem rather fake and dubious given his efforts to intensify the ongoing trade war. But then again, this is just another brand of Trump's diplomacy!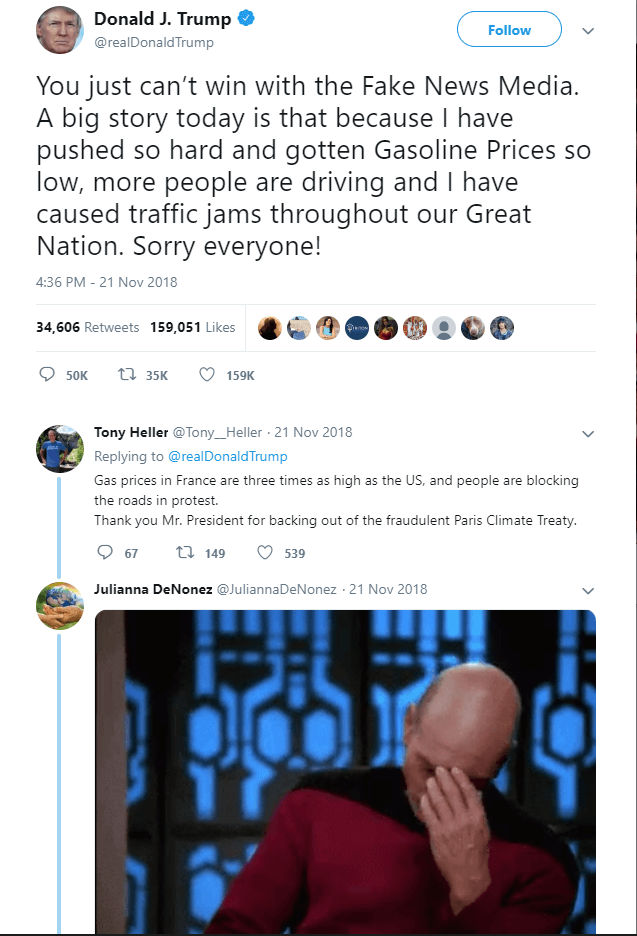 Yet another self-glorifying manner of hitting hard at his critics, Donald Trump bashes the "Fake News Media" for criticizing his policies and failing to highlight his successes. In a rather uniquely hilarious fashion, the US President takes credit for causing "traffic jams" throughout the US by declining gasoline prices that have encouraged more people to drive.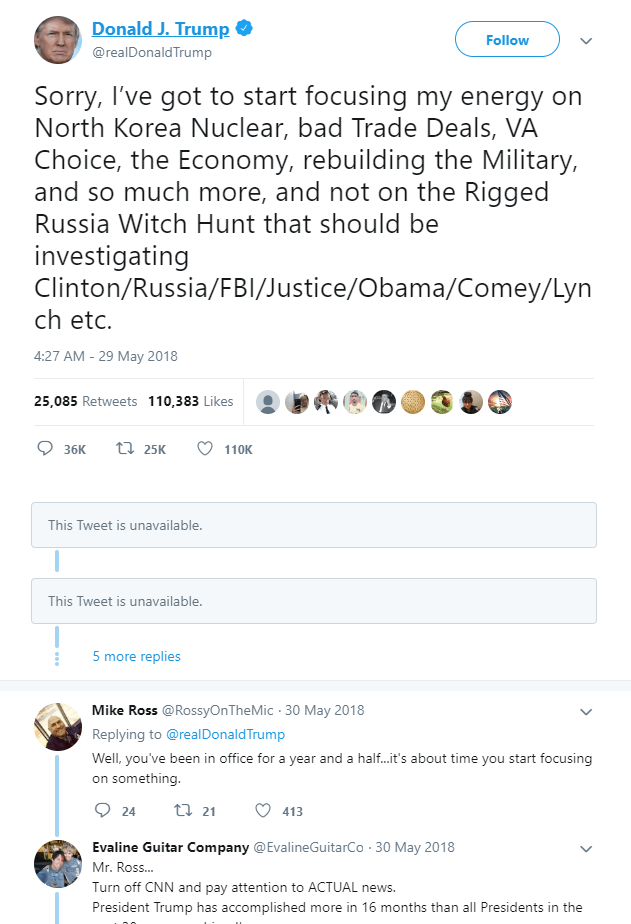 A tweet made during Special Counsel Mueller's investigation into Trump's alleged Russian ties, here the US President makes a sly reference to all the matters he should be attending to, while the entire nation remained glued to their TV screens to hear more about the alleged Russian convergence.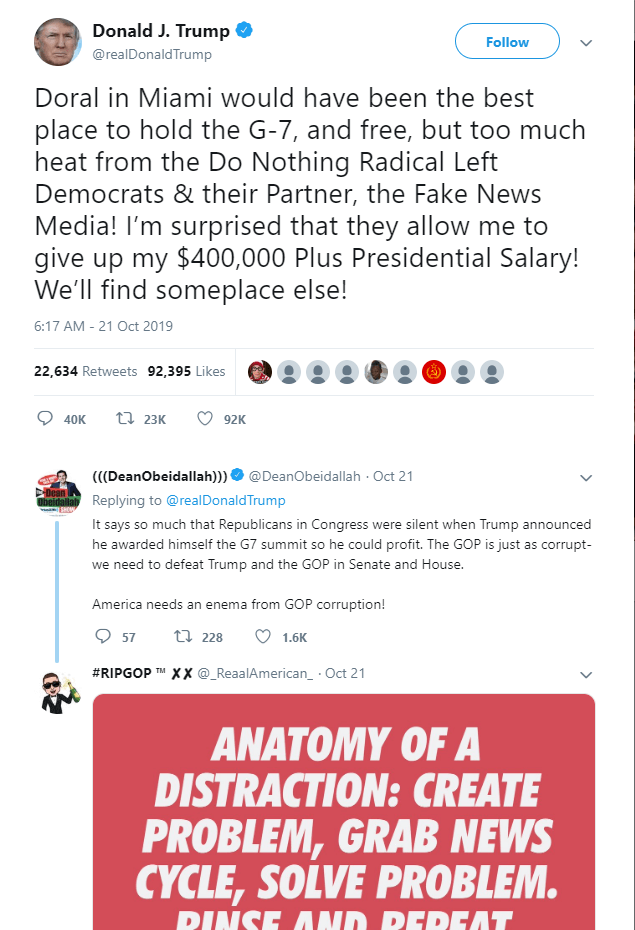 After failing to secure the chosen venue for the G-7 summit, Donald Trump lashed out at the "Do Nothing Radical Left Democrats" and the "Fake News Media". In a rather funny jibe, the US President expressed his surprise at how he was allowed to take home his presidential paycheck and announced his decision to find another venue.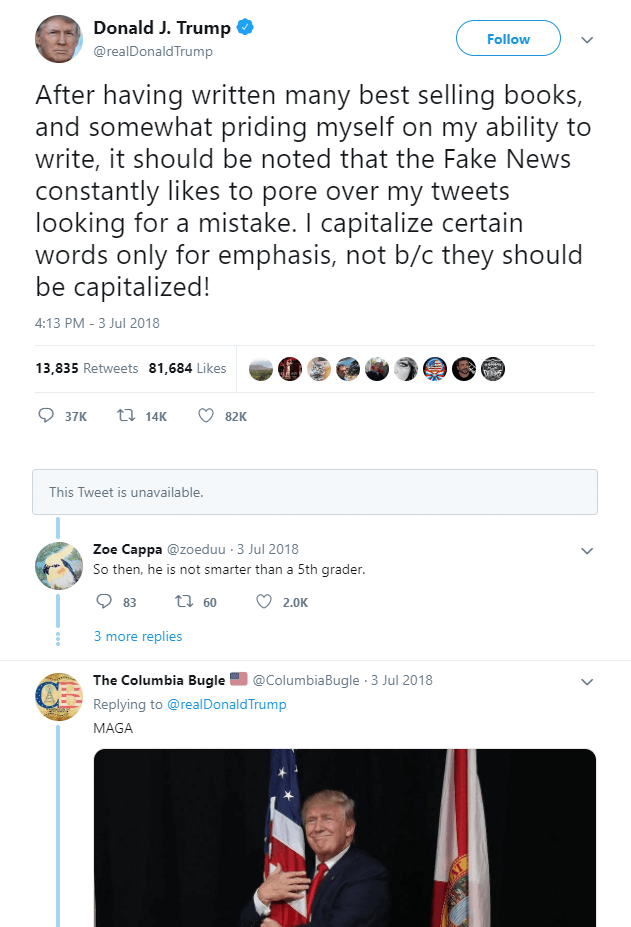 As per his fashion of self-glorifying tweets, Trump has never disappointed his followers with his rather massive tokens of self-appreciation. Touting his achievement of writing "many best-selling books" the US President reveals that he prides himself for his "ability to write". In a striking turn of context, he fires out at the outlets criticizing his tweets and defending his habit of capitalizing certain words.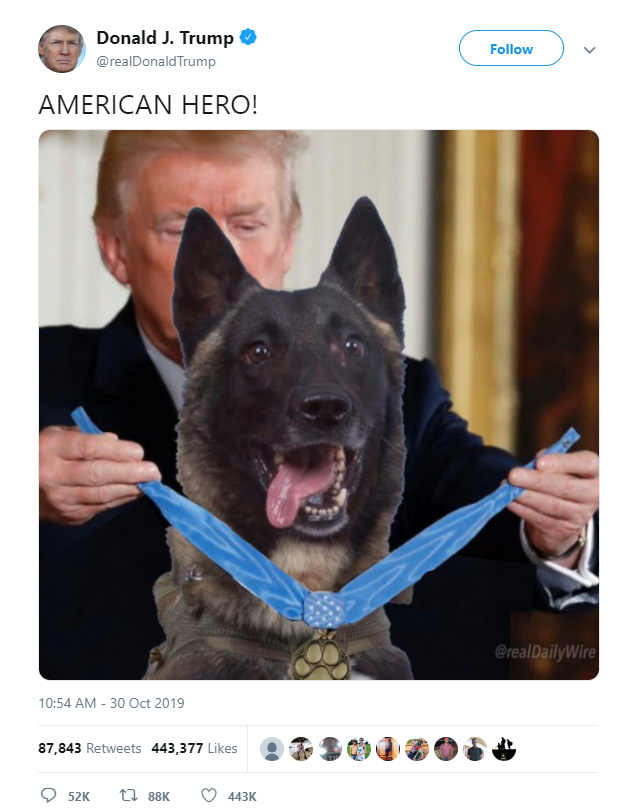 Trust Trump to photoshop a picture of a dog being award a medal by him. The dog was injured during an attack that lead to the death of a terrorist, Abu Bakr al-Baghdadi. He called him a real American hero!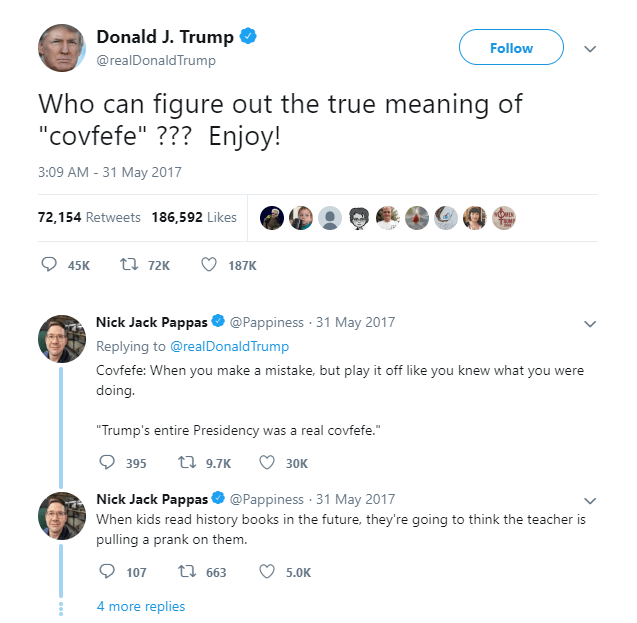 The puzzling tweet reveals that when you don't have your daily dose of caffeine, coffee can turn into covfefe. One late night, Trump tweeted an incomplete sentence with a new word never heard or seen before. The tweet simply read, 'Despite the negative press covfefe'. Trump realized the mistake and deleted it later, but later tweeted, "Who can figure out the true meaning of 'covfefe' ??? Enjoy!" The folks are still figuring out.
Accusing the "Fake News" outlets of stressing over his tweets "looking for a mistake", Trump reveals yet another example of shutting down haters with a loud thud.